And the winner is…. Get Out!
Mick McGovern's Top 10

10. The Florida Project – dir. Sean Baker
Heartfelt tale of a young woman and her child struggling to make ends meet while living in cheap motel on the verges of Disneyland
9. Paddington 2 – dir. Paul King
Even better than the first film, an absolute joy to watch. Laughed all the way through (and cried a teeny bit as well)
8. The Big Sick – dir. Michael Showalter
Great ensemble dramedy that hits all the right notes
7. The Handmaiden – dir. Chan-wook Park
A lavish erotic thriller period piece from the director of Oldboy, full of twists and surprises
6. Moonlight – dir. Barry Jenkins
Deserves all the awards it won, great performances and a story told with great empathy and understanding
5. The Age of Shadows – dir. Jee-woon Kim
Korean period action thriller about a police chief who gets mixed up in the fight between Resistance fighters and the occupying Japanese powers. Full of great set pieces and performances, the two hours plus zips along
4. Get Out – dir. Jordan Peele
Sharp, scary, thrilling and very funny. Should ideally be seen with a crowd
3. My Life as a Courgette – dir. Claude Barras
The most pleasant surprise of 2017, a bittersweet animation about a young boy sent to live in an orphanage
2. Dunkirk – dir. Christopher Nolan
Saw the 70MM version in IFI, worth every cent. Brilliant and gripping from start to finish.
1. Manchester By The Sea – dir. Kenneth Lonergan>
Such a well observed film about people overwhelmed by what life has thrown at them. Everything about it feels real and authentic and it also contains some of the best scenes I've seen in years.
Eithne Shortall's Top… Two!
1. Get Out
2. Moonlight
Best & Worst with Dave & Cathy of the (award-winning!) Cinemile podcast

facebook.com/thecinemile | Subscribe on iTunes
Dave's Best
5. Logan – Does Wolverine dream of slashing sleep?
4. The Meyerowitz Stories – Does Baumbach dream of dysfunctional sheep?
3. My Life as a Courgette – Do animators dream of stop motion sleep?
2. Get Out – Do white sheep dream of being black sheep?
1. Blade Runner 2049 – Do androids dream of electric sequels?
Dave's Worst
Baywatch – Hollywood has forgotten how to dream.
Cathy's Best
5. My Life as a Courgette – No, he's not a vegetable. He's a delightful boy.
4. Wonder Woman – Yes, women can lead and direct profitable movies.
3. Moonlight – No, La La Land didn't win.
2. Get Out – Yes, it's a funny horror about racism in America.
1. The Big Sick – No, it's not another rubbish rom-com.
Cathy's Worst
Baywatch – Yes, turns out The Rock can do wrong.
Conor Bent's 11 Best Films
1. Toni Erdmann
Exquisitely sad and funny film about the difficulty of a relationship between a daughter and her father.
2. Moonlight
Yeah I think we all know it deserved to win the Oscar over La La Land and I liked La La Land a lot.
3. Manchester by the Sea
Kenneth Lonergan is a master of dialogue and avoiding easy stereotypes. I love how his films find little moments to show the point of views of ancillary characters, typified by his own cameo as a passer on the street busting in on the unfolding drama.
4. Silence
Martin Scorsese's latest film about struggling with faith. After The Wolf of Wall Street had people bizarrely claiming he was morally bankrupt, this film seems to have divided the critics
even more, but I found it a profoundly intense analysis of faith while eschewing his stylistic flourishes perhaps even more so than he did with The Passion of The Christ.
=5. The Handmaiden
A tender love story wrapped up in a labyrinthine plot that keeps pulling the rug from under you.
=5. Logan
I'm usually hesitant about films that try to treat their pulpy source materials in a more adult way but this film has genuine emotion and character along with the violence and language. I do feel a bit sorry for the kids who love their wolverine but now have to wait years to see this but it'll be worth it. I can't believe it's the same James Mangold who directed the mostly dull last film
6. Blade Runner 2049
Having re-watched the first one before this, it really didn't hold up at all for me. I found that the sequel had the emotional heft that was missing from the original. That unconventional love scene twisted up my brain. What's the deal with Harrison Ford's iconic characters all having major parenting issues though?
7. Personal Shopper
This year is a good year for arthouse supernatural spirits with this and A Ghost Story. Personal Shopper has stayed with me more despite it sometimes failing in its reach. It really managed to capture the terrifying nature of modern texting and the dread of the ellipsis.
8. Get Out
A brilliant new horror genre classic despite what the Golden Globes might think.
9. The Lost City of Z
A old-fashioned sweeping David Lean style epic featuring a progressive explorer and his search.
10. Twice Shy
A naturalistic relationship drama told in flashback as a couple travel to London for an abortion. There is a real chemistry between the leads and great support from Ardal O' Hanlon and Pat Shortt. I see great potential for writer for director Tom Ryan.
Lisa McGeough's Top 10
10. Colossal
A bit of an odd film, but Anne Hathaway's performance makes you suspend your disbelief just enough to go along for the ride with her.
9. Free Fire
Directed by Ben Wheatley, a rake of Irish lads in it, killer script and lots of shooting – wouldn't usually be mad on violent films, but this one, I really enjoyed.
8. The Big Sick
A rom-com with a bit of a difference – it's based on a true story which really helps and it's great to see that Everybody Still Loves Raymond …
7. Baby Driver
It was a year of film premises I don't usually like surprising me … I can take or leave fast cars generally, but Ansel Elgort made me care about them. Also, banging tunes!
6. Battle of the Sexes
It's just a great story and Emma Stone and Steve Carell are fantastic in it.
5. Happy Death Day
It's Groundhog Day with a twist and they don't shy away from that fact. Doesn't mean it's not a good film.
4. Paddington 2
If only I could live in the world Paddington lives in – an absolute joy from start to finish!
3. Maudie
Such a delicate story, told in such a charming way – essential viewing .
2. La La Land
Lo Lo Loved it …
1. Manchester by the Sea
Such a heartbreaking film – a tough watch, but can't recommend it highly enough. As close as we got to a perfect film this year.
Dave Higgins' Top 10
1. The Handmaiden
2. Get Out
3. John Wick 2
4. Death of Stalin
5. Elle
6. Good Time
7. Call Me By Your Name
8. Moonlight
9. War for the Planet of the Apes
10. Logan Lucky
Zoë Saunders Favourite Films of 2017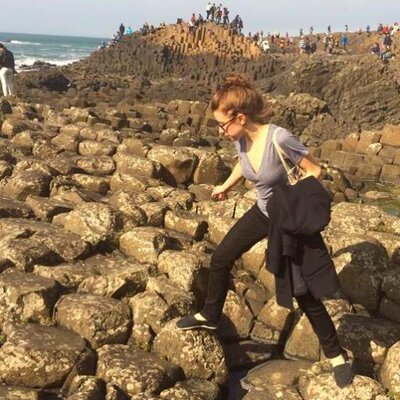 @zuzustweets | "Chalk It Up" drawings on Spooool.ie
1. The Rider
2. Get Out
3. Faces Places
4. A Fantastic Woman
5. Lady Bird
6. Call Me By Your Name
7. Endless Poetry
8. Coco
9. Columbus
10. Rumble: The Indians Who Rocked the World
Niall Sheerin's Top 5
@nsheerin1 | vimeo.com/niallsheerin
In zero particular order…
The Big Sick
Song of Granite
Beach Rats
Icarus
Ingrid Goes West
Colin Boylan's Top 10 of 2017
@sunburntjets | gimmebouts.com
1. Get Out
2. Comes Out At Night
3. Blade Runner 2049
4. Call Me By Your Name
5. Wind River
6. A Monster Calls
7. Ghost In a Shell
8. Moonrise
9. Hidden Figures
10.OKJA
Colm Russell's Top 3
@melan_colly | colmrussell.com
In no particular order…
Manchester By The Sea
The Farthest
Michael Inside
Karen Howley's Top 4 of 2017
1. Toni Erdmann
2. The Disaster Artist
3. The Handmaiden
4. Baby Driver
John McKeown's Top 4
1. Manchester by the Sea
2. Call Me By Your Name
3. Detroit
4. Get Out
5. mother!
6. The Killing of a Sacred Deer
David Smith's Top 5
@Smith_D17 | writing at theseasonticket.ie
Logan – Dark, gritty, moving. The perfect way for Hugh Jackman to bow out as Wolverine.
Dunkirk – Christopher Nolan's WWII epic was atmospheric, thrilling, and visually stunning.
My Cousin Rachel – Rachel Weisz produces a mesmerizing performance in this captivating adaptation of the famous novel.
Get Out – A taut, tense, thrilling film which explored racism in liberal America.
War for the Planet of the Apes – An action-packed and fitting end to an enjoyable trilogy.
Biggest disappointment:
The Dark Tower – A shoddy adaptation of the Stephen King's magnum opus.
Favourite line:
"So… this is what it feels like" – Logan
Jack Ryan's Top 10
Top 10 (in no order in particular and leaving out the 2017 awards season titles)
Logan
Get Out
Raw
War For The Planet Of The Apes
Dunkirk
Blade Runner 2049
Call Me By Your Name
Paddington 2
The Florida Project
The Disaster Artist
Favourite Scene
Willem Dafoe helping a visitor buy a can of soda in The Florida Project. The closing moments weren't too far behind.
Favourite of the 2017 awards season titles
Manchester By The Sea
Favourite line
"Bring me the anatomy book." – The Beguiled
The 'I Still Don't Know What To Make Of This' Award
mother!
The 'I Wish I Liked This As Much As Everyone Else' Award
Baby Driver
Ah lads
Assassin's Creed
xXx: Return of Xander Cage
Ghost In The Shell
The Dark Tower
Justice League
The Mummy